Barriers Related to How Much Does Rehab Cost
Most people who struggle with an addiction do not seek help because of the costs associated with it. Supporting yourself while in rehab can be very difficult when you are struggling with an addiction but the cost of rehab without insurance could make it even harder to get sober. For this reason, many individuals will need public assistance, including financial help from their family, friends and loved ones, or they may even need to resort to hiring a public defender.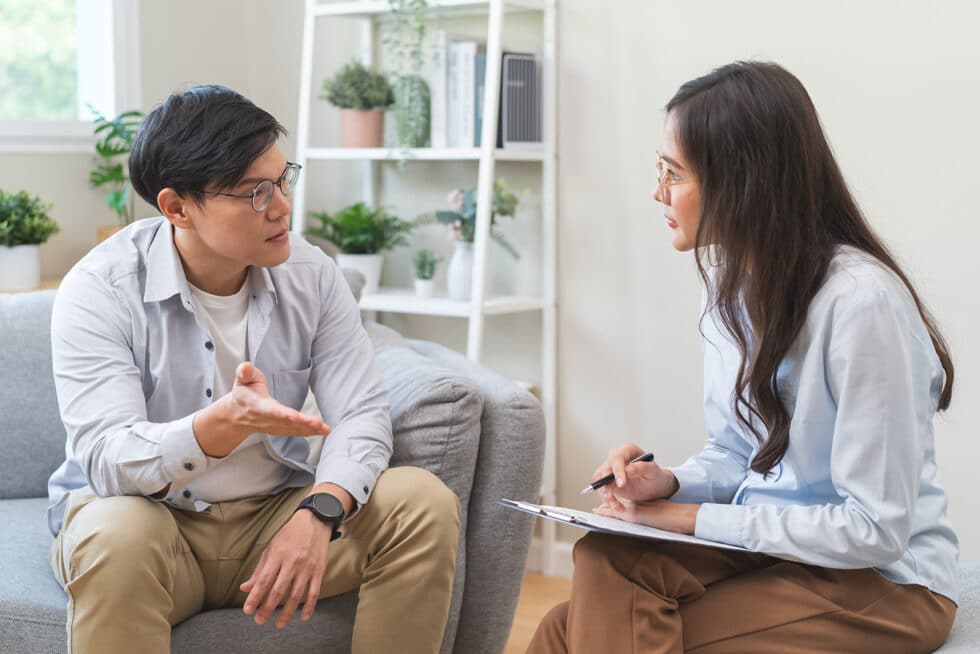 The average cost of private rehabilitation is $10,000 – $30,000 per 30 days for treatment plans and care (indicating how much rehab costs per month). This type of care is typically provided at a nice hotel facility that includes luxury rooms and three meals a day.
If that sounds like too big of a price tag, how much does rehab cost without insurance? Well, there are a variety of addiction treatment centers that will provide services at a fraction of the price.
Outpatient programs often teach alternative therapies like acupuncture and meditation during how many hours in a day. They also include group counseling sessions where individuals can learn coping skills to help them deal with their current life.
What Is the Continuum of Care?
The continuum of care is simply how addiction is treated. After successful completion of detoxification, the person moves onto another form of either drug counseling or individual counseling. Depending on how severe their addiction was and how well they were able to stop drug use or alcohol use for an extended period, this will show how much rehab cost as well as how long does treatment take place. Sometimes those who have been using drugs or alcohol for quite some may require less treatment.
Additional Costs
Rehab costs can vary depending on how long you will be in treatment and if there are additional fees for things like:
Transportation
Food
Parking
It's also important to know that some facilities offer payment plans so it doesn't have an impact on decisions about how much rehab costs.
Detoxification
The first level of care is typically detox which can last a few days to a week (or more). This type of program may also be referred to as medical detox because it's medically supervised by doctors, nurses, and other trained staff members. Detoxification can cost about $600-$1,000 a day.
Residential Rehab
Residential rehab is the next level of how much rehab costs, as well as how long will treatment take place. This is a 24/7 program where those struggling with addiction receive care around the clock from trained staff members. A standard inpatient addiction treatment facility costs between $14,000-$27,000 for a 30-day program.
Outpatient Rehab
Outpatient rehab can be described as a level of care typically for those in recovery who want to stay in their home with access to care when necessary. Outpatient programs may be provided in group settings or one-on-one, but they don't require you to stay overnight at the facility. Outpatient treatment can range from free to $500 per session.
Aftercare Programs
Aftercare programs establish the ongoing treatment model. Aftercare programs can include support groups, case management, telemedicine, and relapse prevention programs.
The cost of treatment will vary, depending on the services offered.
What Factors Determine How Much Does Rehab Cost?
Addiction can be a very expensive disease to treat. There are many different forms of treatment available. Withdrawal is not comfortable but it's manageable through medications and supervision.
There are many different factors to consider when deciding how much rehabilitation is, another important aspect to remember when considering how much drug addiction costs. The cost of drug and alcohol rehab depends on the needs of the addicted person. Location, amenities, and the level of intensity you need all play a role in how much rehab costs without insurance.
Location
The location of the treatment center can also affect how much rehab costs. If you need to be on an island or in a rural area, this will usually have more of an impact on how much the treatment costs. The further away from home you are, this may determine how much is drug rehabilitation. For recovering people, traveling to a facility in another city or state may be too expensive.
Amenities
The amenities at the treatment center will also affect how much does rehab cost. Amenities for drug rehab can include the following:
Yoga
Art Therapy
Music Therapy
Equine Therapy
Massage Therapy
Acupuncture
Adventure therapy
Nutritional education
Psychotherapy
Gyms
Size of the program
The size of the program plays a huge role in how much rehab costs and how much does a drug addiction cost. When you're looking at how much rehab facilities cost, you should consider the size of the program as well as its amenities and level of care.
The bigger programs often have more amenities and specialties but also require more resources, meaning more than smaller programs. You can research how much drug rehab costs by reading other people's experiences with different treatment centers online or asking your doctor about what kind of facility might be right for you.
What Are Some Ways to Lower How Much Does Rehab Cost?
There are several ways you can lower how much rehab costs for drug addiction treatment without insurance. You may want to consider enrolling in a local program that offers sliding scale fees or reduced fees. This means rehab costs could be significantly reduced based on your income and other factors.
Compare OptionsAnother option is to check into different facilities within your area that offer alternative treatments like outpatient therapy or intensive outpatient therapy, which might work better with your budget.
How Much Does Insurance Typically Cover?
Insurance providers are sometimes willing to pay for addiction treatment if the patient has a history of mental health issues. However, rehab costs with insurance can vary greatly. The best way to find out how much insurance covers is to contact them directly.
What Are Some Common Misconceptions about How Much Rehab Costs?
People typically think that because they have no money for rehab, there's nothing they can do. That is untrue; there are many low-cost options available depending on which type of treatment someone needs and how long their care requires it.
There are also sliding scale payment plans offered by most rehabilitation centers if people don't have any money at all upfront or need a more affordable option than how much rehab costs without insurance.
How Much Does Rehab Cost Without Insurance? Are There Options Available?
The options available for someone who doesn't have insurance typically include outpatient, counseling-only treatment options. These do not typically come with detox services or treatments for drug or alcohol withdrawal symptoms because there are no medications involved in the process.
This is how much rehab costs without insurance – $0 upfront to access addiction treatment, which can be compared against how much rehab costs with insurance to see how much money may be saved.
Outpatient care doesn't typically last longer than 30 days, but it varies depending on how many sessions people need to attend to get better and how much they'll also need in aftercare programs once the 30 days are up. Counseling-only facilities offer therapy in group settings at very affordable rates; however, they don't come with all the bells and whistles.
To determine rehab costs without insurance, you need to contact an outpatient program that offers affordable services. In most cases, the total of how much rehab costs per day or how much does rehab cost per week would be around $1,000 – $5,000 (indicating how much does rehab cost per day or how much does rehab cost per week).
Low-Cost or No Cost Rehab
Low-cost or no-cost rehab may need additional research, but there are some options to look into before you assume that it's not an option for you. Your out-of-pocket costs can be reduced or eliminated in a number of different ways.
Do-it-Yourself Help
If your addiction issues aren't too severe, there are ways to fix them on your own without going to rehab. Quitting cold turkey is not recommended for people with a substance abuse problem such as alcohol abuse because withdrawal symptoms could cause them to relapse or have another kind of accident or injury due to how they were feeling during the detox process.
Doing it alone can also be risky if the person doesn't know how to handle how they're feeling when coming down off of their substance of choice, so DIY isn't the best idea unless you have a strong support system.
Budgeting for Addiction Rehab
Budgeting for addiction rehab is a little different since there are different levels of substance abuse treatments ranging from highly intensive to minimally intensive. You also have to take how much money you spend outside of the rehab facility into consideration, because if you're going to an inpatient rehab center, you'll have to factor in how much it costs for you to keep up with your normal expenses.
Expenses are added on top of how much rehab costs, which makes it more difficult. Not every addiction treatment center works with insurance, but many do because they want people to be able to get the help that they need without worrying about how they're going to pay for it.
There are other options out there as well though, so if you do have an addiction problem, simply speaking with somebody can help make sure that you start down the right road toward recovery. It's not always easy to figure out how much rehab costs or how much rehab costs without insurance, but knowing what steps you need to take can help.
The Affordable Care Act of 2010
The Affordable Care Act of 2010 was a monumental change for individuals in the US. It eliminated pre-existing conditions, allowed for dependents to remain on parents' plans until they were 26 years old, and made it possible for Americans to shop around for insurance whenever they needed it.
This was huge because before this act was signed into law in 2010, it could be very difficult for people with addiction problems to find affordable health insurance that would cover them even when they were seeking treatment. Many insurers would refuse applications from someone who admitted to having an addiction problem or past drug convictions.
Luckily, today there are over four hundred health insurance companies nationwide who participate in the federal marketplace exchanges set up under the Affordable Care Act. These companies must provide specific services like therapy visits and rehab stays so that you best prepare yourself. Entering rehab demands immense courage and support.
Medicare and Medicaid for Addiction Rehab
People who are enrolled in Medicare or Medicaid are often able to receive addiction treatment benefits to help cover the cost of their time in rehab, but how much it covers depends on if they have private insurance too. If you don't have private or public health coverage then you can turn to your state for payment options.
States and their designated agencies will either offer you help with how to afford rehab or how to receive assistance for treatment. If you don't have any insurance at all, then these services may be able to guide you through the process of how to get coverage.
Private Insurance Coverage for Addiction Rehab
Paying for addiction treatment is easier if you have private health insurance because it means that your premiums can take care of some or all of the rehab costs. The cost of addiction treatment is the same as any other type of medical procedure so it's pretty standard what your policies need to cover. If this changes then check in with them first before entering a facility or finding a healthcare provider. You also need to know how much the deductible and co-payments will be in total.
The Opportunities for Growth Await at Miracles Recovery
In this article, we have gone over how much rehab costs as well as how long it takes to complete a rehabilitation program. We have also discussed how one can go about getting help for their addiction and what they should expect when going through detox programs and residential rehab programs. If you or someone you know is struggling with drugs or alcohol addiction, please reach out to the Miracles Recovery Center helpline today and get the help needed to live a healthy life free of these substances.
FAQ
How much does drug rehab cost?
References:
https://www.healthcare.gov/glossary/affordable-care-act/
https://www.addictiongroup.org/resources/faq/costs/